We have been working on this for a while, and wanted to tell you all about it:
We are officially relaunching Language Tools as OPLingo!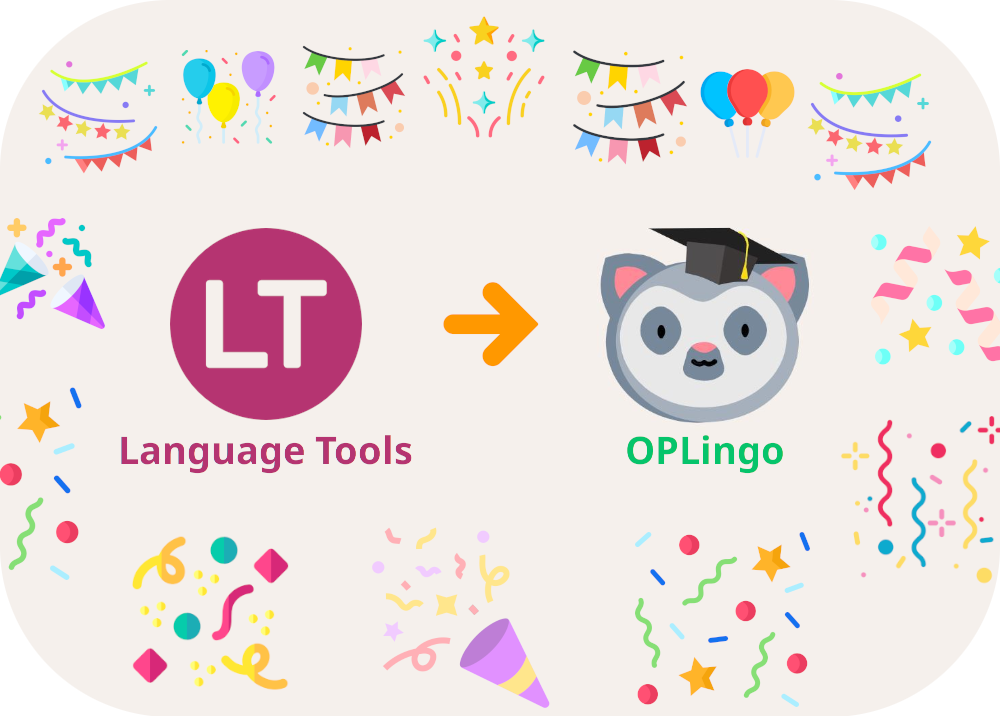 We'd like to say thanks to all those who contributed, by helping us to come up with a new name, by talking about us in their communities, by telling us what they wanted from the platform, by subscribing to LT, and by simply learning languages with us. Tomorrow (or later today, depending on where you are), LanguageTools.io will become OPLingo.com. Don't worry, you will be able to continue as normal, as your accounts, data, and progress will be seamlessly transferred. You won't even have to type the new address, as you'll be automatically redirected to the new website.
Why relaunch? We want to...
Communicate about what makes us different. We are unarguably different from other platforms. We want language learners to know that they can access first-rate tools at a fairer price than what is available elsewhere. We believe in a community brought together by the desire to learn a language, rather than the desire to use a specific app or "the one true method". We want our users to take up various roles and to help build our platform. Finally, and most importantly, we donate all of our profits to ethical causes, and we want our social impact mission to be front and center in how we present ourselves to the world, because that is at the core of our identity.
Grow the community. A bigger community has many advantages. The larger the community, the more diverse our users will be: a diverse community makes for a richer shared experience and more insightful discussions in the forum. The larger the community, the bigger the synergies and network effects: each user will be more likely to learn productively, if they're doing so on a platform built on a variety of language-learning experiences. The larger the community, the more users we can reach, by translating our platform into more languages, for example. The larger the community, the more feedback we get about how to improve the platform, and we see feedback is a gift. And it goes without saying that the larger the community, the more empowered we will be to carry forth our social impact mission.
Give an overhaul to the platform itself. In lockstep with a shift in our communication, we want to give a fresh look and features to the platform. Something that is more in line with what the best online communities are offering, and with what users are expecting from our platform. This includes better ways of helping users engage with the platform and keep motivated, better functionality on mobile, better communication pathways between our users and those building the platform day to day. And also a cute olingo, because everything is better when your spirit animal has your back.
We also want you to know something important: we need your support during this time. We literally cannot do this without you. Please consider helping us out by giving feedback, by spreading the word, by liking our posts on social media, by helping us keep our community forum active, by sharing new passages for people to read, or by writing essays about your day. Basically, keep being yourself, but be yourself even harder. In the coming days and weeks, we will keep you up-to-date about our latest posts and communication efforts, please visit those links and back us up.
Thanks so much again, and get ready for OPLingo!